Improve your design skills and knowledge, one step at a time
Bite-sized tips on visual and usability design principles, for makers and creators.
Over 100 copies sold ⭐️⭐️⭐️⭐️⭐️
Ebook
A collection of 50 bite-sized, actionable design tips, including links to further resources.

Newsletter
Quick design tips and general updates.
Join over 350 makers & supporters

Get a free sample of the ebook
just took a peak. some very nice stuff, nice one!

— Harry's Marketing Examples (@GoodMarketingHQ) November 25, 2020
Done. Looking forward to learning more from you Mark.

— Jon Baxter (@JonBaxter17) June 24, 2020
Awesome, just subscribed. Really looking forward to reading it

— Max Haining (@HainingMax) July 27, 2020
About Mark Bowley
---
I've been in design for more than two decades, covering brand and digital. I'm a no-code maker myself and active across various communities.I've also built microbrave.com, starrt.co, and makerdesign.tools
The Tiny Design Lessons ebook
Over 100 copies sold ⭐️⭐️⭐️⭐️⭐️
The Tiny Design Lessons ebook contains 50 simple tips on visual and usability design principles. The tips have been heavily distilled and simplified, to give you just enough knowledge to take action without draining your time. Many of the lessons also come with links to further resources, such as examples, templates and worksheets.
Do you struggle with design?
Many makers and creators I've spoken to are frustrated with the design side of their work. Of the many hats they have to wear building solo projects, design stands out as a problem and is often ignored. They don't know enough basic design to make their work look better or easier to use.To make matters worse, most design guidance is too generic, jargon-filled, or overly detailed. This means makers like you aren't able to use design to add more value. You need design advice that's simple and clear, so you can keep on creating without getting over-stretched.With my background in design I saw this as a chance to help whilst doing something I enjoy – empowering non-designers with basic design skills. I believe just knowing a tiny amount can make your work infinitely more valuable. It's all about the marginal gains, right?
Improve your knowledge without much effort
With this book, I want to teach you simple steps to make a big difference. I hope it gives you more confidence in using design every day, or gives you a better idea of how design principles can apply to almost anything you create. I just want to help you build better things, using the power of design.
Who is this for?
The ebook is for you if:
you want your work to look as good as it can, and cover usability basics.

you find most design guidance too generic, jargon-filled, or too detailed.

you want clear and simple answers your design questions.
What you'll learn
The ebook will show you how to:
improve the visual design of your projects one step at a time.

make sure you've covered usability basics before you ship something.

launch projects that are visually better and more delightful to use.

Chris Strobl
@chrisnocode
It's really a good product and the price is fair. I enrolled in multiple online courses on design, but it wasn't easy applying it to my workflow.
Your book, I can open on my second screen and go through all 50 lessons while building and before deploying a product. Well done

Dru Riley @DruRly
Happy Tiny Design Lessons customer here :)

Michael Novotny @michaeljnovotny
It's helped me quickly find design nuggets to help implement better design with my landing page. It gave me reassurance of things to verify like as if I talked with a designer.

Sarwech Shar @sarwechs
You're on fire, Mark! 🔥 Love Tiny Design Lessons and I often come back to it for design inspiration.
Kieran @nocodelife
This is absolutely brilliant. I genuinely learned loads just from three pages.

Lundy @WmLundy
Purchased! Book is loaded with quick insights and best practices. Exactly what I was hoping for.

Büşra Coşkuner @_beesea_
I'm really happy with your book. I feel like I have a little guide that explains the most important points about design.

Matt @makermattevans
Not even looked inside and already know this is going to be worth many times the purchase price. Great effort Mark!

Marc @IndustrialMarc
Easy to digest, concise and interesting. I find this book to be a useful reference when building websites and it's time for the detailed work!

Stephen Campbell @stepocampbell_
Helped me with some key pointers to change my perspective on design, somewhat simplifying it and having me more relaxed going into a new build.
Example pages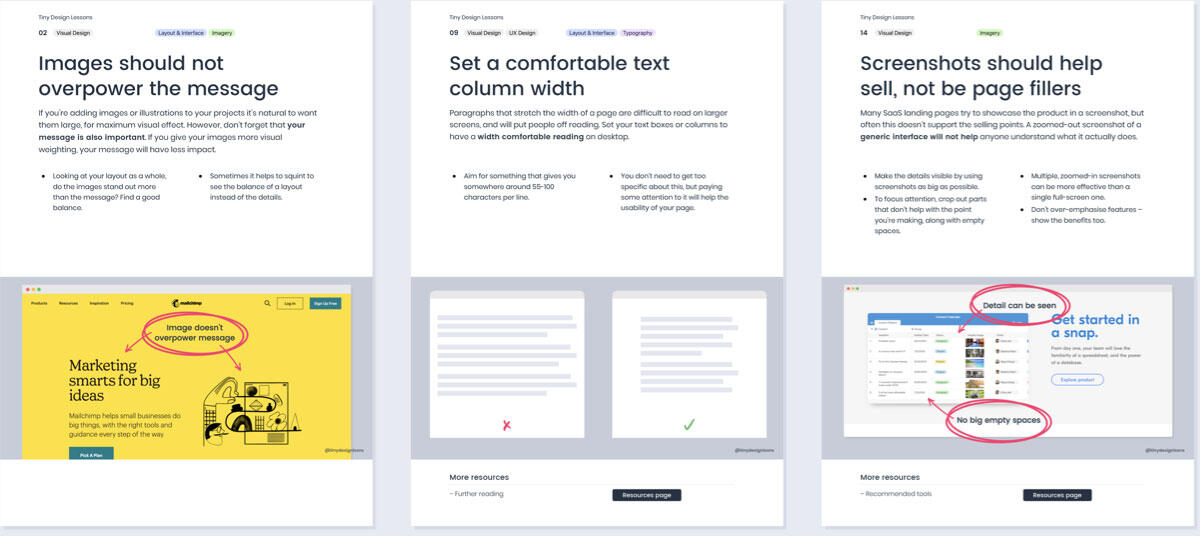 About Mark Bowley
---
I've been in design for more than two decades. I've worked on marketing design, brand design, and app design but I'm not an expert in any particular area like UI, UX, or web. I actually consider that a strength, as I have strong designer instincts which enable me to see many different areas where small gains can be made, to add value.I'm also a no-code maker myself. Over the years I've frequently needed to use no-code solutions in my consulting work, so I understand the principles. In late 2019 I became much more active in this, shipping small experiments and useful tools to learn new skills. I've become involved in various no-code communities since 2020.
Over 100 copies sold ⭐️⭐️⭐️⭐️⭐️
Buy the ebook
$25
50 actionable, bite-sized lessons

Covers Visual and UX design

Additional resources

Topic indexes (e.g Typography)
Other ways you can help
Even if you're not ready to buy yet you can still support the project.
Share this page on social media or relevant communities.

Share this page with fellow makers you think would find it useful.

Subscribe to the newsletter below.
Subscribe to the newsletter for updates and design tips.
Join over 350 makers & supporters on the list
Who is this book for exactly?
Tiny Design Lessons is for digital makers, creators and builders of all kinds. I created it with no-code makers in mind, but really it's for anyone who's creating tools, products, marketing materials or anything else of value.
What if I just want design resources, not lessons?
No problem, everyone has different needs. I've created makerdesign.tools for you – a database of 300+ design resources and tools.
Why should I care about learning? I think my designs are good already.
Design principles are important to get right. What you think is good isn't always what users think is good, and what seems usable to you, isn't always usable by them.
How is this different to other design courses and books?
My goal with this book is to lower the barrier to using design to achieve your goals. I'm aiming for clear and unthreatening design advice, without jargon or long-winded explanations.
Will buying this book guarantee I'll be able to create great designs?
No it doesn't. Tiny Design Lessons is a guide. Applying the lessons requires individual effort and the results are dependant on your circumstances amongst other external factors.
Can I become an affiliate for your ebook?
Yes you can if you have a website, newsletter, blog, podcast or anything like it for an audience of indie and no-code makers. Find out more here.
---
Dru Riley

@DruRly
Happy Tiny Design Lessons customer here :)
Marc

@IndustrialMarc
I've been reading @markbowley's Tiny Design lessons book and highly recommend it to anyone who's building a No-Code project. Or any project actually! 🙌
Kieran

@nocodelife
This is absolutely brilliant. I genuinely learned loads just from three pages.
Matt

@makermattevans
Not even looked inside and already know this is going to be worth many times the purchase price. Great effort Mark!
Thanks for joining us. One last thing to do...
Please check your inbox (or spam) for an email to confirm.
If you don't click the button in the email, you won't receive updates...
Welcome!
You're now subscribed for updates on Tiny Design Lessons.So happy to have you here, and I'll keep you posted on my progress as I build this project 😀
Thanks for staying with me 🙂
I'm so glad you decided to stay subscribed to the Tiny Design Lessons newsletter.
I hope I can inspire or help you with future newsletters and tips.
Curious what you might have missed? Find all the previous issues here.
Would you like a discount code for the ebook? Use code friends on Gumroad to get 25% off.
Want a free sample of the ebook? You can download it here.
If you're at all interested in the idea of a design community for makers and founders, please add your email here.
This is just thinking out loud at the moment, not a definite plan. I'm just curious about interest in the idea.
Keeping it simple
I want to show that effective design is accessible to all, and can be achieved with regular, small steps and basic knowledge.For that reason I'm aiming to do two things: Not rely heavily on pro design tools, which most people don't have access to; and keep my own designs simple, not fancy.
Building in public
I'm also aiming to build in public as much as possible. This is for a number of reasons.Mostly, it's an opportunity to share my product-building journey and learnings with others. It's also a way to demonstrate first-hand some of my design tips, and to build support along the way.
Twitter
Tweet-friendly snippets of some lessons.
Newsletter
Occasional lessons & general updates.
Ebook
50 lessons plus more resources.