Improve your design skills and knowledge, one step at a time
Bite-sized tips on visual and usability design principles, to help indie and no-code makers elevate their work.
Longer term, the lessons will become a web collection here.

While I build up the collection, you will find them in the following places.
Twitter
Tweet-friendly snippets of some lessons.
Newsletter
Occasional lessons & general updates.
Ebook
50 lessons plus more resources.
---
Add your email below for updates & occasional lessons
Join 200+ makers & supporters on the list
---
Keeping it simple
I want to show that effective design is accessible to all, and can be achieved with regular, small steps and basic knowledge.

For that reason I'm aiming to do two things: Not rely heavily on pro design tools, which most people don't have access to; and keep my own designs simple, not fancy.
Building in public
I'm also aiming to build in public as much as possible. This is for a number of reasons.

Mostly, it's an opportunity to share my product-building journey and learnings with others. It's also a way to demonstrate first-hand some of my design tips, and to build support along the way.
Awesome, just subscribed. Really looking forward to reading it

— Max Haining (@HainingMax) July 27, 2020
This sounds great. Instant subscribe.

— Whit Richardson (@whit_richardson) September 16, 2020
Had an amazing chat today with @markbowley! A really nice person, and a design expert who's going to give makers superpowers 🤩

Soooo much looking forward to what's coming!#NoCode as well as coding makers, if you're not yet following him: Do it!

— Büşra Coşkuner (@_beesea_) July 24, 2020
This is exactly the kind of thing around design what I'm looking for in my inbox 🌟🌟

Subscribed and excited to read them!

— Andrew Tsao (@atsaotsao) July 27, 2020
Yaay! It's out! I'm excited about this and the ebook, Mark! Keep it coming!

— Lakshmi Narayanan (@_glnarayanan) July 28, 2020
About Mark Bowley
I've been in design for more than two decades, covering brand and digital. I'm also a no-code maker myself and active across various communities.

I've built deckof.carrd.co and I'm working on makerdesign.tools
Build better projects by learning design basics the easy way
A collection of bite-sized, actionable design tips for busy makers.
Launching 14 October
Pre-order special* $29 $39
*Ends 30 Sept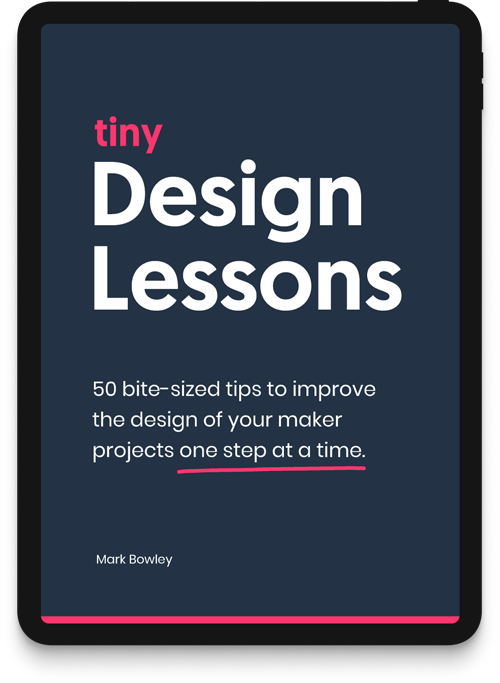 The Tiny Design Lessons ebook contains 50 simple tips on visual and usability design principles. The tips have been heavily distilled and simplified, to give you just enough knowledge to take action without draining your time. Many of the lessons also come with links to further resources, such as examples, templates and worksheets.
Do you struggle with design?
Many no-code makers I've spoken to are frustrated with the design side of their work. Of the many hats they have to wear building solo projects, design stands out as a problem and is often ignored. They don't know enough basic design to make their work look better or easier to use.

To make matters worse, most design guidance is too generic, jargon-filled, or overly detailed. This means makers like you aren't able to use design to add more value. You need design advice that's simple and clear, so you can keep on building without getting over-stretched.

With my background in design I saw this as a chance to help whilst doing something I enjoy – empowering non-designers with basic design skills. I believe just knowing a tiny amount can make your work infinitely more valuable. It's all about the marginal gains, right?
Improve your knowledge without much effort
With this book, I want to teach you simple steps to make a big difference. I hope it gives you more confidence in using design every day, or gives you a better idea of how design principles can apply to almost anything you create. I just want to help you build better things, using the power of design.
Who is this for?
The ebook is for you if:
you want your projects to look as good as they can, and cover usability basics.

you find most design guidance too generic, jargon-filled, or too detailed.

you want clear and simple answers your design questions.
What you'll learn
The ebook will show you how to:
improve the visual design of your projects one step at a time

make sure you've covered usability basics before you ship.

launch projects that are visually better and more delightful to use.
Example lessons
Awesome, just subscribed. Really looking forward to reading it

— Max Haining (@HainingMax) July 27, 2020
Yaay! It's out! I'm excited about this and the ebook, Mark! Keep it coming!

— Lakshmi Narayanan (@_glnarayanan) July 28, 2020
"This is absolutely brilliant. I genuinely learned loads just from three pages."
– Kieran Ball @nocodelife
"I'm excited for the ebook! Just from the small preview I got to see I can tell this is going to be special."
– Sarwech Shar @sarwechs_
About Mark Bowley
---
I've been in design for more than two decades. I've worked on marketing design, brand design, and app design but I'm not an expert in any particular area like UI, UX, or web. I actually consider that a strength, as I have strong designer instincts which enable me to see many different areas where small gains can be made, to add value.

I'm also a no-code maker myself. Over the years I've frequently needed to use no-code solutions in my consulting work, so I understand the principles. In late 2019 I became much more active in this, shipping small experiments and useful tools to learn new skills. I've also become involved in various no-code communities in 2020.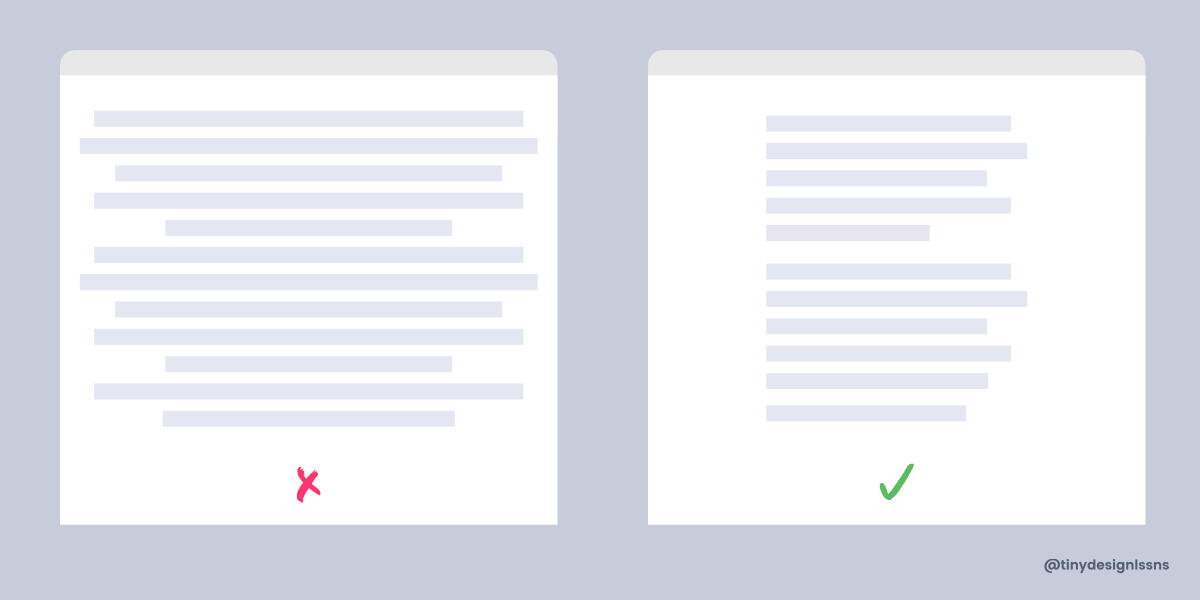 The ebook includes
50 actionable, bite-sized lessons

Covering Visual and UX design

Additional resources

Category filters (e.g Web Apps)

Bonus: 5 design checklists
Other ways you can help
If you're not ready to pre-order, that doesn't mean you can't help:
Share this page on social media or other relevant communities.

On Twitter, please tag @tinydesignlssns.

Share this page with 5 fellow makers who you think would find it useful.
Who is this book for exactly?
Tiny Design Lessons is for digital makers, creators and builders of all kinds. I created it with no-code makers in mind, but really it's for anyone who's creating tools, products, marketing materials or anything else of value.
What if I just want design resources, not lessons?
That's fine, I realise everyone has different needs. I'm actually building something for you – makerdesign.tools is going to be a database of 150+ design resources and tools.
I think my designs are good already, why should I care about learning?
Design principles are important to get right. What you think is good isn't always what users think is good, and what seems usable to you, isn't always usable by them.
How is this different to other design courses and books?
My goal with this book is to lower the barrier to using design to achieve your goals. I'm aiming for clear and unthreatening design advice, without jargon or long-winded explanations.
Will buying this book guarantee I'll be able to create great designs?
No it doesn't. Tiny Design Lessons is a guide. Applying the lessons requires individual effort and the results are dependant on your circumstances amongst other external factors.
Can I become an affiliate for your ebook?
Yes you can if you have a website, newsletter, blog, podcast or anything like it for an audience of indie and no-code makers. Find out more here.
Wall of love
Kind words and support on Twitter...
Thanks for your interest. One last thing to do...
Please check your inbox (or spam) for an email to confirm.
If you don't click the button in the email, you won't receive updates...
Welcome!
You're now subscribed for updates on Tiny Design Lessons.

So happy to have you here, and I'll keep you posted on my progress as I build this project 😀